This is the 4th of our "Big Panel" fixed solar array systems suitable for pumping water from a bore, creek, river, tank or dam. This unit will do 74,400 L/day at 10m of head, 42,300 L/day at 20m of head, 22,100 L/day at 30m of head and an amazing 9,800 L/day at a massive 90m of head with all of this from only 6 x 260W 24v Australian Made Tindo solar panels. Manufactured by Grundfos to their exacting standards of quality and reliability, these units will provide water for many years. This basic system includes:
1 x Grundfos SQ Flex-N submersible solar pump,

6 x

Australian Made Tindo

260w 24v solar panels,

1 x DC isolation switch and cables,

1 x IWGroup 6 panel array structure with post and all necessary bolts,

1 x Cable connection kit including all necessary glands, cable ties, plugs and sockets,

1 x 10m length of cable with flexible conduit to connect the controller to the top of the bore,

All metal components in the pump and motor are 316 stainless steel,

Low water level sensor built onto the motor cable (no additional probe cable required),

Low and high voltage protection, overload and overtemperature protection,

MPPT - maximum power point tracking is included.

You select the most suitable pump for the flow and head and this is included in the price here.
You select the most suitable pump for the flow and head and this is included in the price here.
We will need to add electrical cable, stainless steel safety cable, pipe, fittings, pressure or flow switch, level switch, freight and installation if required to the basic price. You will need to supply one or two holes, concrete and labour if you want to install the system yourself.
All of our Grundfos pumps with 2, 3, 4, 5, 6, 8, 10 or 12 panel fixed solar array pump systems are available in DIY kit form and are supplied with all electrical connections completed by our electrician, tested, with plugs, ready for you to install. We supply every DIY kit with full instructions including photos.
The 6 panel Australian Made Tindo & Grundfos fixed array solar pump unit is the large "Big Panel" system that we supply but, while it may be small, it is big on performance. Grundfos has been manufacturing pumps including solar pumps for many years and the name "Grundfos" is synonymous with exceptional quality, reliability and efficiency. Your solar pump will have a daily task to perform and I am positive that the Grundfos system will be able to perform for many years.
2-year Grundfos warranty on the SQFlex pump and motor,

1-year warranty on the IWGroup steel array structure,

20-year CNPV warranty on the 205w 24v solar panels,

1-year warranty on all other components,

5-year workmanship warranty when we install the complete system.
We design, assemble, test and supply the Grundfos solar pumping units with the minimum life span of 25-years as our goal. To achieve this, we only supply the best equipment that has been proven in the field and is manufactured by reputable companies. A Grundfos solar pumping unit is not a cheap unit, is is a combination of exceptionally high quality components that is designed to operate without problems for at least 25-years.
The chart below shows the volume in litres per day that you can expect from any of our "Big Panel" 2, 3, 4, or 6 panel fixed array system with any of the Grundfos submersible solar pumps that are shown. These figures have been calculated at Glen Innes for summer flows and they will vary depending on your location and the time of year.
1,500 watt 6 Panel Fixed Array Grundfos System

Flow in litres per day at Glen Innes, NSW.

Head in M

Grundfos SQF Pump Model

11A-3N

8A-3N

8A-5N

5A-7N

5A-3N

3A-10N

2.5-2N

1.2-2N

0.6-3N

0.6-2N

10m

107,000

103,000

97,000

69,000

66,000

34,000

26,000

13,000

8,000

20m

57,000

50,000

33,000

25,000

12,000

8,000

6,000

30m

36,000

33,000

23,000

12,000

8,000

6,000

40m

25,000

27,000

21,000

12,000

8,000

6,000

50m

21,000

20,000

12,000

8,000

6,000

60m

17,000

18,000

11,000

8,000

6,000

70m

15,000

11,000

8,000

5,000

80m

14,000

10,000

6,000

5,000

90m

12,000

10,000

6,000

5,000

100m

9,000

5,000

5,000

120m

5,000

5,000

140m

5,000

160m

5,000

180m

5,000

200m

4,500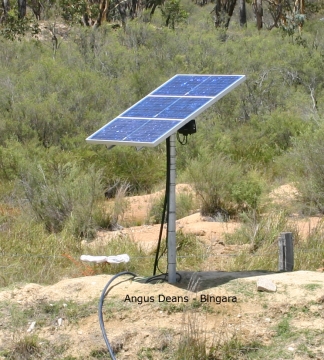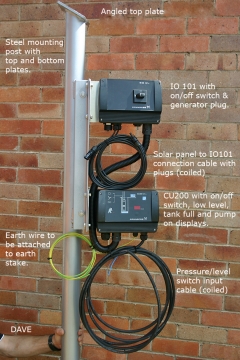 The image above is actually a 3 x GF70 fixed panel array that we installed for Mr Angus Deans on his property at Bingara, NSW. This unit is supplying around 7,000 litres of water per day from a very old gal steel tank burried in the sandy river bank. The total time required for assembly and installation was 3 hours and we had water pumping into the dam by shortly before lunch. This Grundfos solar pump unit will move around 63,875,000 litres of water over the planned life of 25-years. This works out at a cost of $117-40 per million litres of water pumped.